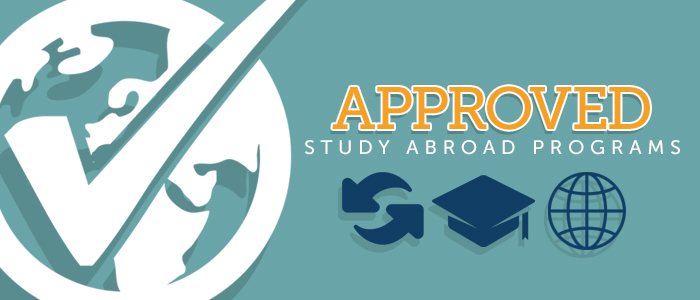 Before you study abroad, it's important to understand how your chosen program fits within your course of study at UMW. Make sure you meet the criteria for studying abroad, and plan ahead for your transfer credits to fulfill all the right requirements in your degree plan.
Eligibility Requirements
UMW Credits – For semester or year abroad options, students must have completed 12 credits at UMW.
GPA Requirements – Students must have a minimum 2.0 GPA to study abroad, though most education abroad programs have higher GPA requirements.  Students on academic probation are not eligible to study abroad.
Transfer Students – Transfer students must spend at least one semester in residence before studying abroad.
Residency Requirement – Students must complete at least 15 of the last 21 credits at UMW. If you are abroad during the first semester of your senior year, you must take at least 15 credits in your final semester at UMW to meet the residency requirement. Students may seek a WAIVER to the residency requirement PRIOR to studying abroad by making an appointment with the Registrar.
Clarifying Goals
Academic Goals

– Is your goal to study a foreign language?  Are there specific courses you would like to take that are not offered at UMW?  Do you want to take some courses related to your major, or do you have other subjects in which you are interested? When does an education abroad experience best fit into your program of studies?

Geographic Interest

– Are you interested in a particular region of the world or a specific country? Do you prefer to stay in one country, or travel to multiple countries?

Personal Goals

– Do you want to live with a host family? Is a volunteer, research, or internship element to the program important to you? Would a long-term or a short-term program better suit your goals?
Earning Academic Credit Abroad
Transfer Credit – Course credits from UMW Approved Programs will transfer as long as students get approval from the relevant academic department chairs. Courses can transfer as a UMW equivalent course, major elective credit, or elective credit. In order to guarantee the study abroad credits will transfer, courses must be approved prior to departure using the Study Abroad Course Approval Form. Students must receive a grade of "C" or better in order to receive transfer credit.
General Education Requirements – Certain general education requirements are well suited for fulfillment through studying abroad, such as the language requirement.  Most students who study abroad successfully fulfill part or all of their language requirement by getting the language course(s) approved by the chair of Department of Modern Languages and Literatures.  Other general education requirements may be fulfilled through study abroad, but each one has its own set of procedures and deadlines for approval.  Always consult the Undergraduate Academic Catalog to learn what all of your general education requirements are.

Beyond the Classroom and Diverse and Global Perspectives – These general education requirements can be fulfilled by any education abroad program by submitting a contract prior to departure. Only one of the two requirements can be fulfilled by a single education abroad program.

Speaking Intensive and Writing Intensive – Students may request to have a study abroad course fulfill the Speaking Intensive or Writing Intensive requirement. Prior to going abroad, students should understand what is required to fulfill each of these requirements by contacting the Director of Speaking Intensive Program, Dr. Anand Rao, or the Director of Writing Intensive Program, Dr. Gwen Hale.  Upon return, you must submit the Request for Re-Evaluation of Transfer Credit form to the director of the appropriate program.
Double Majors – Students may request to have study abroad courses fulfill both major requirements of a double major through a process known as an "exception to the major." Students must contact or meet the department chairs of both majors prior to going abroad and obtain approval for the course(s) to count toward each major.  Department chairs should sign the Course Approval Form.  No more than 9 credits can overlap between majors.
Next Steps
Complete the UMW Approved Program Checklist to stay on track as you prepare to depart on your adventure abroad.