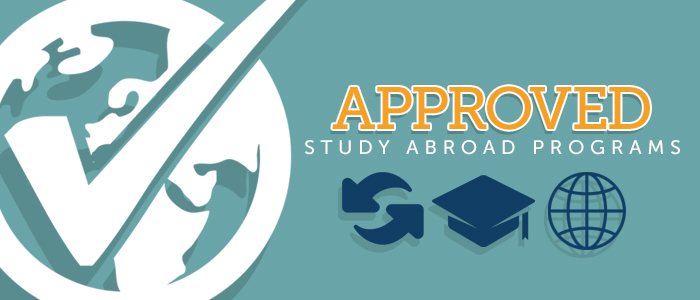 Review this checklist to see the steps you should be taking as you prepare for your education abroad experience. Before you begin, make sure you meet the
criteria
for studying abroad.
Register for your chosen program. This lets the Center for International Education know of your plans to participate in an Education Abroad program so we can assist you along the way.
Make a peer advising appointment with CIE (Lee Hall suite 434) to discuss study abroad processes (optional).
Apply to your specific education abroad program. Deadlines and requirements vary, so be sure to explore your program's specific process. Consult your program's website for more information.
Confirm your acceptance directly with your program by submitting the required documents.
Send a copy of your acceptance letter or forward your acceptance email to CIE.
Submit a Study Abroad Course Approval Form outlining the courses you plan to take while abroad and how you would like them applied for transfer credit.
Before completing the form, meet with your academic advisor, decide which courses to take, and determine how you want the courses to transfer: courses can transfer as a UMW equivalent, major/minor elective credit, or elective credit.
In order for a course to transfer as a UMW equivalent or major elective credit, students must get approval from the appropriate department chair. CIE can approve courses taken for elective credit. Students must get their courses approved for transfer prior to going abroad.
Turn in a signed Assumption of Risk and Release from Liability Agreement to CIE.
Complete the International Emergency Contact Information form to provide UMW with information needed to contact you in the event of an emergency.
Turn in a signed Medical Information Form to CIE.
Fulfill your Beyond the Classroom or Diverse and Global Perspectives requirement while studying abroad. The signed Study Abroad General Elective Contract must be submitted to CIE prior to studying abroad. The General Education Committee does not honor requests for retroactive BTC or DGP credit.
Submit a Course Registration Planning Tool request (optional). Students who plan to be abroad for a semester or year will need to register for the following term's UMW courses while abroad. Each student is responsible for their own registration. If, however, you are unable to register for courses during your registration period, upon request CIE can register you in your courses through this tool. Please contact CIE prior to your registration period to request this service.
Submit an Undergraduate Degree Application if you have already earned 58 or more credit hours.
Check on your passport. If you don't already have a passport, apply for one immediately.
If this is your first passport, you will need to apply in person at a passport acceptance facility.
Ensure that your passport will be valid for at least 180 days beyond the end date of your program. Renew if necessary.
Obtain a visa, if necessary. Consult the U.S. State Department's Traveler's Checklist to determine whether you need a visa for your program. Consult your destination country's embassy website for the most up-to-date visa requirements.
Establish insurance by providing your exact travel dates to CIE. UMW requires all students to have comprehensive international health and medical insurance while studying abroad. Coverage must include emergency extraction for natural disaster or political events, as well as repatriation of mortal remains. These coverages are beyond what the typical US health insurance policy covers and are available through UMW's contract health insurance provider at a reasonable rate.
Some education abroad providers include international health insurance as part of the program cost; you may show proof of such inclusion to CIE and be exempted from UMW's health insurance. All other students will be enrolled in UMW's international health insurance plan and your student account will be billed for the insurance fee.
For more information on international health insurance, visit the U.S. State Department's Students Abroad website.
Familiarize yourself with conditions that could affect your health while abroad through the Centers For Disease Control website.
Register online for the Department of State's Smart Traveler Enrollment Program, and download the Department of State's Smart Traveler App to stay informed.
Book your flight(s). You are responsible for arranging your own transportation unless you are participating on a program with a group flight. You must arrive at your abroad location on the day the program begins.
Pre- or post-program travel is optional as long as program dates are respected.
Useful air travel tips are available from the US Department of Transportation.
Stop by CIE (Lee Hall Room 434) to pick up information on discounted student flight arrangements.

Attend a Pre-Departure Orientation Session. Sessions are presented by CIE and are mandatory for all students studying abroad. Held in mid-April for summer and fall Education Abroad students, and mid-November for spring and winter break Education Abroad students. The date, time and location of these meetings will be emailed to you.
File an Intent to Vacate form with Residence Life before the semester of your education abroad program. This ensures that you are not charged for housing while abroad but that, if desired, you have a room waiting for you upon return to campus.
Apply for the numerous Education Abroad Scholarships available through CIE and external organizations.
Square up with the Office of Financial Aid. In order to apply for education abroad financial aid, students must submit the following to the Office of Financial Aid:
Request for Study Abroad Financial Aid form for Summer or Semester/Year.
Official program acceptance letter
An estimated cost of the program (verified by the program provider)
Program dates
Signed course approval form
Sign up for direct deposit if you are using scholarships, grants, or loans to help pay for your education abroad program. (Email finaid@umw.edu or call (540) 654-2468.)
If students participate in Virginia529 PrePAID, they are required to notify CIE if they wish to apply prePAID funds toward their study abroad expenses.
UMW must make arrangements on your behalf to be the school of billing to utilize prePAID funds; CIE must have advanced notice to request an invoice on the student's behalf from their study abroad program.
PrePAID payments cover only the equivalent of UMW tuition; students are responsible for paying the difference between total program cost and the amount covered by prePAID, plus the mandatory education abroad fee, a $35 wiring fee, and the cost of international health insurance.
Questions concerning all other third party benefits can be directed to the Office of Student Accounts at umwbills@umw.edu or 540-654-1250.
Cancel UMW courses, if necessary. If you registered in UMW courses as a back-up, you must cancel those courses before you leave for your study abroad program. Pick up a Course Cancellation Form at the Registrar's Office, or submit an email from your UMW email to the Registrar stating that you are studying abroad and want your course registration cancelled.
Make the final "campus run."
Return books to the library and bookstore.
Pay the balance on your Student Account, including the Education Abroad Fee, by contacting umwbills@umw.edu or calling (540) 654-1250.
Turn in your parking decal to receive a refund for the semester, if applicable.